Work Files
Store, share and download your job files. Keep your team organized and informed.
Seamless File Management for Enhanced Collaboration
Unlock the power of efficient file handling with Employee Link's robust Files feature. Seamlessly upload and share a diverse range of file types, from essential documents to project images, ensuring every piece of critical information is at your fingertips.
Empower Your Workflow:
Centralized Storage: Enjoy a unified repository for all your job-related files, eliminating the hassle of scattered documents. With Employee Link, every piece of project data is organized and easily accessible.
Boost Team Collaboration: Instantly share files with your entire team, fostering real-time collaboration and ensuring everyone has access to the most up-to-date information. No more delays or miscommunication due to missing files.
Enhanced Accessibility: Retrieve files effortlessly, whether you're on-site or in the office. Employee Link's mobile-friendly design ensures that you're always connected to your crucial project documents.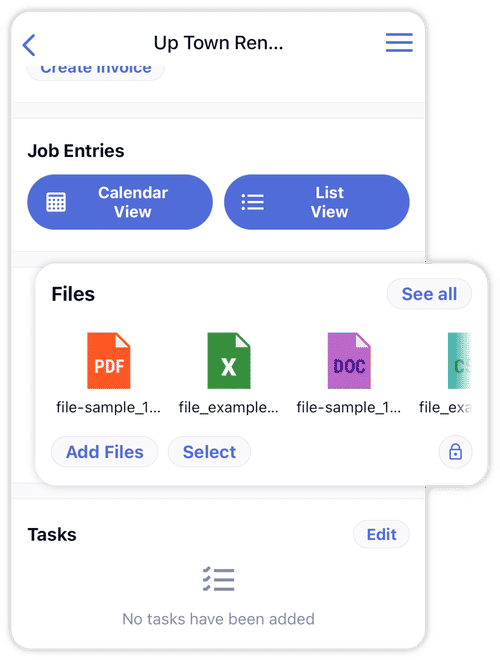 Upload files in jobs
All Files Supported
Share any type of file in your jobs. Whether it's site drawings, excel sheets, pictures or any important file; upload it and store it with your job.
Start Now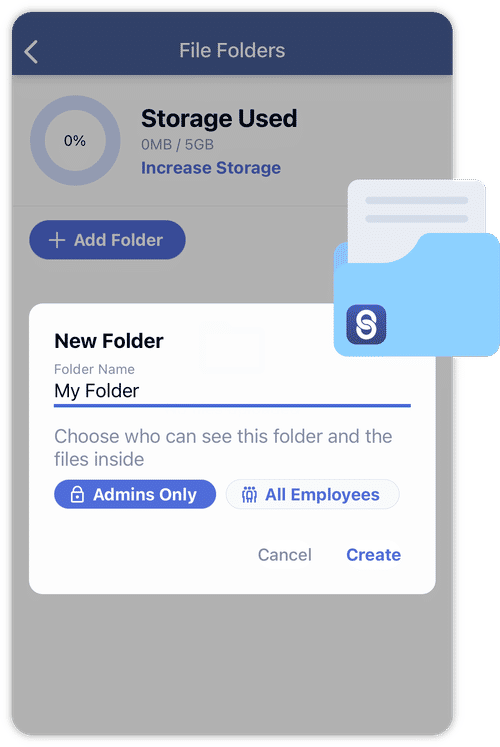 Store files your way
Create Your Own Folders
You don't have to store files in your jobs. Create new folders to upload your files in. Choose whether to share the folder with your whole team or just admins.
Start Now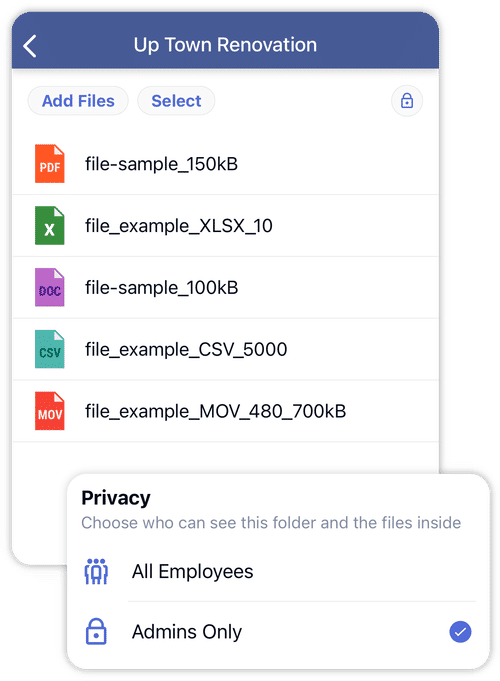 Secure your files
File Privacy
Choose whether you want job files and folders to be seen by all employees or admins only. Set the privacy of folders to control the visibility of your files.
Start Now
Elevate your project management capabilities with Employee Link's Files feature. Experience the benefits of seamless file sharing, enhanced accessibility, and organized document management designed to propel your projects to new heights of efficiency and collaboration.
Tailored File Management:
Customizable Folders: Organize files your way. Create personalized folders to categorize documents, making it intuitive for your team to locate specific files, streamline workflows, and enhance productivity.
Privacy Controls: You're in control. Choose who can access specific files or folders. Whether you want to share with your whole team or limit visibility to admins only, Employee Link gives you the flexibility to secure your sensitive data.
Stay Ahead with Job-Relevant Files:
Job-Centric Approach: Every file is directly linked to a job, ensuring that you have immediate access to the documents and resources you need for a specific project. No more sifting through unrelated files.
Efficient File Searching: With Employee Link, finding the right file is a breeze. Use intuitive search filters to quickly locate documents by job, date, or type, saving you time and streamlining your workflow.