Time Tracking App for Restaurants
Clock-Out for Lunch at La Arepa
Featuring - La Arepa - Authentic Venezuelan Food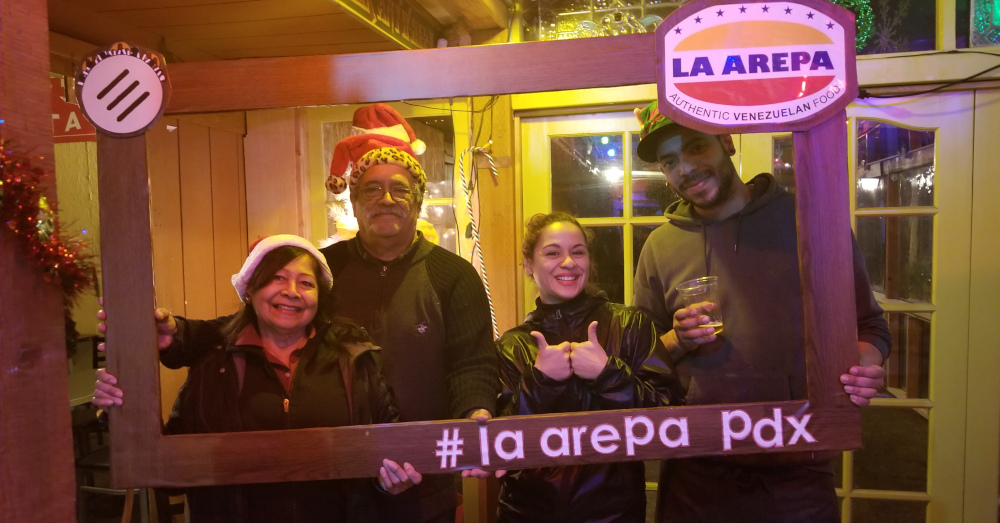 When Antonio Gutierrez and wife, Elsy Rodriguez, emigrated to Portland, Oregon from Venezuela in 2007, they brought with them a love for the Venezuelan people, the unique flavors of the country's traditional recipes, and a passion for bringing joy to others through cooking. At the time, there were many international foods available in Portland, but none offering a taste of typical Venezuelan street food.
Missing the delight of sharing food with family, friends and neighbors, Antonio and Elsy worked with Easter Seal, Connection Latino's Program to bring their dream of a Venezuelan restaurant to Oregonians. In 2010, the couple opened their first food cart in an area of Southeast Portland known for its connection to the community. Then, the owners were still struggling to become fluent in English but their business grew, based on the quality of the food and their passion for feeding people. Their son, Vladimir, and his wife, Darien, supported them especially with translations and business plan documentation.
In 2016, daughter Veronica and her husband, Yean Carlos, opened a second La Arepa food truck in Portland. Veronica now manages the business, including operations, recruitment, marketing, and staff training. It's a big job, with two trucks operating six days a week, Tuesdays to Sundays, from noon to 8pm. She operates with four to six employees handling the cooking and customer service for both locations. They're busy every weekday afternoon and even busier on weekends, juggling orders from customers lined up at the truck, using the restaurant's self-service kiosks, or requesting delivery from one of four online food delivery companies.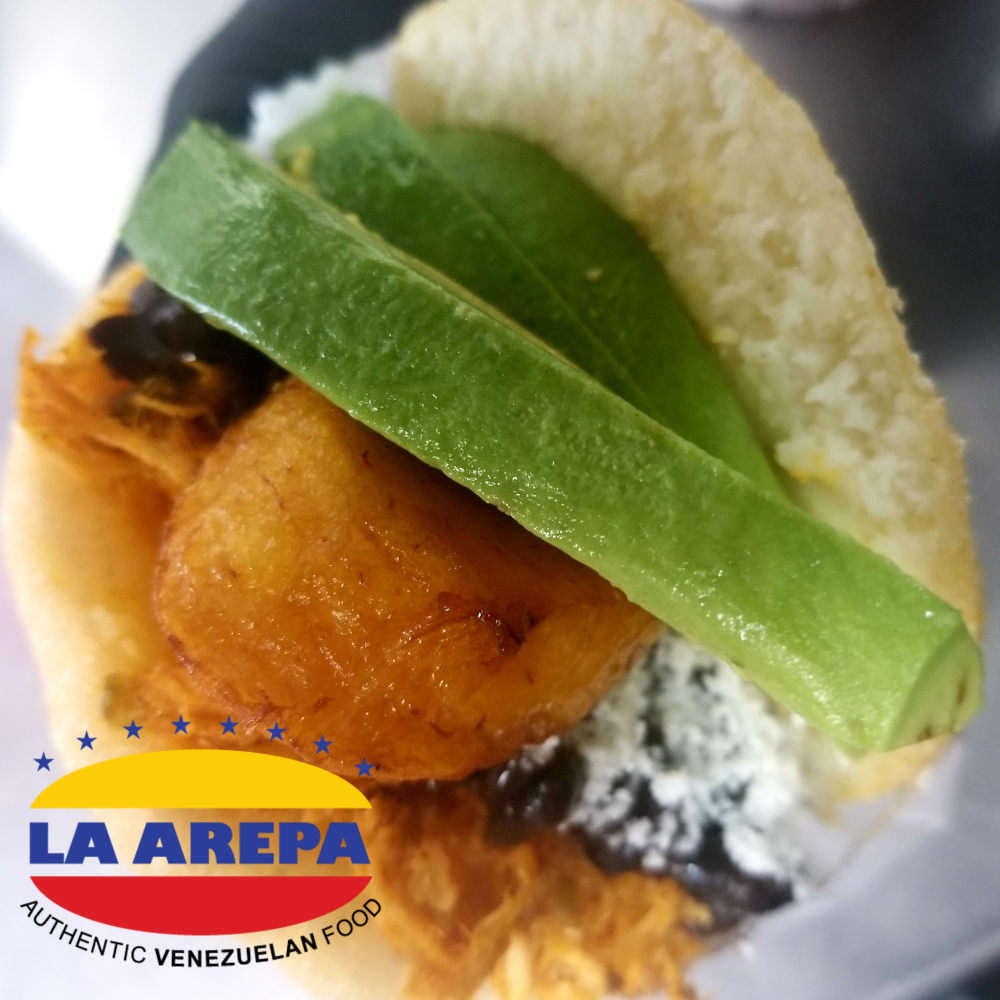 So, why is everyone in Portland lining up at La Arepa? Well, the answer is in the restaurant's name! Arepas are a cornerstone of Venezuelan cuisine - flat, round and bread-like, arepas are made from corn meal, deep-fried or grilled, and then filled with ingredients that satisfy whether eaten for breakfast, dinner or snack. La Arepa food trucks offer nine different types of arepas, all naturally gluten-free, versatile, and easy to eat on the go.

For some, the "Pabellón Arepa" hits the spot with its shredded beef, black beans, cotija cheese, avocado and plantain. Or, maybe the shredded chicken arepa, with onion, garlic, sweet pepper and paprika. A favorite main dish with La Arepa customers is the "Pabellón Criollo", a traditional Venezuelan meal of rice, shredded beef, plantains, avocado, fried egg and black beans, topped with cotija cheese. Breakfast anytime? They have you covered with the "Perico" arepa, stuffed with scrambled eggs, seasoned with garlic, onion, and sweet peppers. And, all dishes are served with the family's special homemade salsa.
Veronica's personal favorite is the "Patacón"- a sandwich made with crispy slices of thin, fried plantain instead of bread, filled with beef, chicken or fish, salad, cotija cheese, ketchup and mustard. Topping it all off, La Arepa serves "Quesillo", a sweet, creamy, pudding- like dessert made of eggs, condensed milk, vanilla and caramel. And, If you're not feeling hungry right now, you're lacking gastronomical imagination!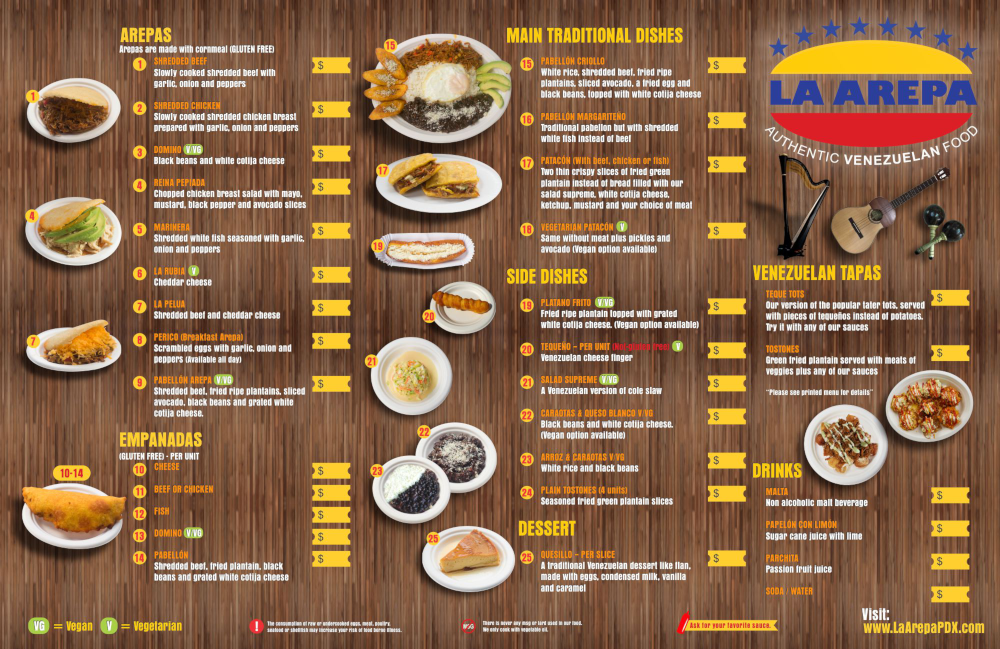 As La Arepa and its staff grew, Veronica faced the challenge of finding an app to replace the chaotic, time-consuming system in place for tracking employee hours. Before adopting Employee Link, staff recorded their daily hours on a paper timesheet posted at each location. At the end of each week, employees took a photo of the timesheet with their hours and texted it to Veronica for payroll prep. Of course, sometimes staff would forget to enter hours or submit incomplete records. On Sundays, Veronica explained, she spent hours recording each employee's work entries in an Excel spreadsheet for the pay period, and contacting staff to collect missing hours or confirm incomplete reports. Next, she used an online calculator to figure out wages earned for each employee before sending the completed spreadsheet to the accountant to issue payroll.
What a difference when Veronica discovered Employee Link! She chose the app because "it was the easiest, fastest time tracking app I found on the app store"! With Employee Link, the paper timesheet is long gone and employees clock in and out of their shift each day with one easy click. The app displays a running total for each employee's gross earnings for the month or pay period and Veronica loves that she simply clicks a button to export a PDF timesheet summary to the accountant.
Saving payroll preparation time allows Veronica and her family to focus on what's close to their hearts… inviting customers to learn more about the Venezuela they love through its food. Amidst the media onslaught of stories about the poverty, hunger and violence of contemporary Venezuela, Veronica and her family take pride in sharing a positive aspect of their homeland with Oregonians through their cooking.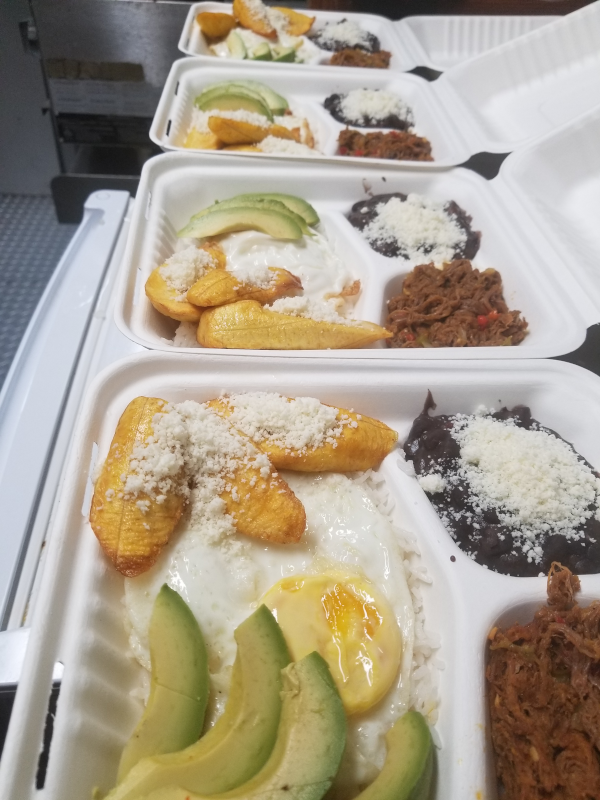 Resilience….it describes the heart and soul of the Venezuelan people, the Gutierrez/Rodriguez family, and the people of Oregon who've shown their unity and strength during the difficult days of the recent wildfires and through the Covid-19 pandemic. La Arepa actively supports those back home through Venezuela's Voice in Oregon, which provides access to food and medicine for those in need. They partner with other restaurants to deliver food to homeless shelters in Portland and participate in Bake to End Hunger events, organized by Partners for a Hunger-Free Oregon. The Gutierrez/Rodriguez family believes that "food is a human right" and it is their passion to feed people.

When it comes to running a busy, socially-responsible food business, there is no room for complacency. Veronica loves that her job challenges her to learn something new every day and provides "much freedom with many responsibilities".
At Employee Link, we're proud to partner with the La Arepa family who put love in everything they serve. We built the Employee Link app to simplify mobile team management, time tracking, scheduling and communication for business owners across the globe. And, we know we're doing our job when employers like La Arepa tell us:
"Employee Link saves me hours of work every week. It makes my payroll so simple!"
- Veronica
So, when you're in Portland and hungry, check out La Arepa! When you want to save time and costs on time tracking, payroll prep, team scheduling and more, check out Employee Link on your app store.

La Arepa - Authentic Venezuelan Food